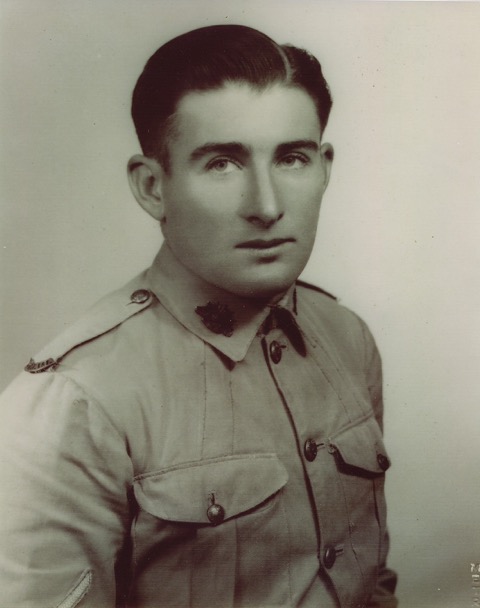 MILLS Jack WWll Service Record
National Archives of Australia - 15 Pages 6.0MB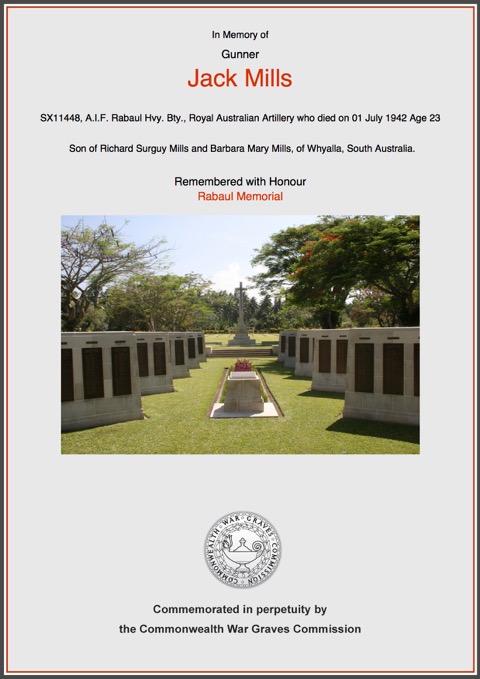 Extract from 'From Whence We Inherit' by Joan M Jenkins (nee Mills)


Around the world there are always "wars or rumours of wars" and men are called to fight for their country and people.

The Sons of Lewis and Helen fought overseas in the first WorldWar, and the second World War saw their grandsons and the fiancées or husbands of their granddaughters serving in the army, navy or airforce.

Jack, son of Barbara Hogg and Richard Mills, was the only one who did not come back. Jack at the age of 21 enlisted in the army as a gunner, and was eventually posted to New Guinea with the 2/22nd Battalion.

The poignant story of what happened to that garrison of Australian soldiers
is related in this newspaper cutting from the Adelaide "Truth", July 1958.
Approximately 14,000 Japanese landed at Rabaul - and our boys only numbered
1,400.

When news of the assault was relayed to Australia the families of the soldiers waited anxiously for word of what had happened to their boys and waited and waited. Some never knew for certain. Sometime later a Japanese plane flew over Darwin and dropped a bag of prisoner-of-war letters. One letter was from Jack Mills. His parents, Barbara and Dick, knew the letter was genuine - the writing, although shaky, was his, and the few lines with their wisp of humour were also unmistakably his. "Don't worry about me, Mum. I'm O.K. - it's just that the girls here are not as good as the ones, at home".

At least he was alive.

Time pasted and then a soldier who had evaded the Japanese and eventually been rescued by a small boat off the New Guinea coast was admitted to the Mt. Gambier Hospital, with deep mental depression. When he was told the Matron's surname was Mills he asked if she was any relation to Jack. Matron replied that, yes, she was an aunt and that his parents had received a prisoner-of-war letter from him.

The man was overjoyed and related what had happened. At the time of the Japanese landing, Jack, with a few other soldiers - including the patient - were some distance from the main garrison setting up a new gunsight. Jack was helpless with a bad bout of malaria - too weak to stand, let alone walk. With hordes of little yellow men swarming towards them, the small band, carrying Jack, retreated into the jungle, hacking their way through with knives. One man at a time pushing or crawling could penetrate the dense growth, but it was impossible to carry Jack through. At last, sick at heart at what they had to do, they yielded to Jacks entreaties and left him lying there, with a loaded gun at his side.

It was a terrib1e decision to have to make. If the Japanese found a lone so1dier, too sick to stand, there was a faint hope they might treat him humanely - at least let him live. They were three or four men against hundreds and if they stayed to protect him, and in doing so killed or wounded some of the Japanese, he would almost certainly be killed or roughly treated.

The memory of having left a comrade in that situation, even though he knew they had had no choice, was the factor causing the soldier's depression, and when he knew Jack survived, he quickly recovered.

In July 1942 came the news of the American submarine having sunk the Japanese ship Montevideo Maru off Luzon Island in the Philippines - unaware she was carrying a load of Australian prisoners. There were rumours that Jack Mills was amongst those on board, but not verified. Then, a year or two later, Jack's parents received a letter from the Red Cross advising them he was in the notorious Changi Japanese prisoner-of-war camp. The stories of the horrifying treatment of those prisoners were always in the headlines and it was a heart rending time for their families in Australia. The Red Cross information was usually accurate and no-one thought of doubting that the report of Jack being there was correct.

The war ended and gradually the surviving prisoners dwindled back to Australia - but no Jack.

But one of the 2/22nd Battalion from the New Guinea garrison did return - one of the officers. He went to see Barbara - Dick had died from a heart attack in 1944 - and told her he was certain Jack had been on the Montevideo Maru - he had seen him embarking from the wharf in New Guinea. The officer had a long talk with Barbara and gave her all sorts of little pieces of information
about her son - some funny, some sad.

The prisoners-of-war at Rabaul were put to work - Jack and his mates unloading the food ships as they arrived - and those lads worked out all sorts of schemes for purloining food for their sick and starving comrades - what they couldn't steal, they did their best to render unfit for consumption - putting rusty nails into tins of food was one of the mildest methods," said the officer.

So apparently Jack had drowned. In a way, it was a comfort. It was evident he was not coming home, and compared to what might have happened to him had he been in Changi as reported, drowning was a quick, clean death. But we will never know for certain.